HERFSTCONCERT 22 oktober 2023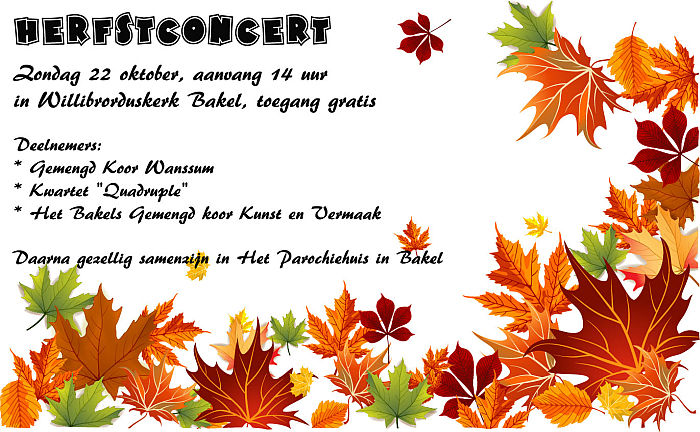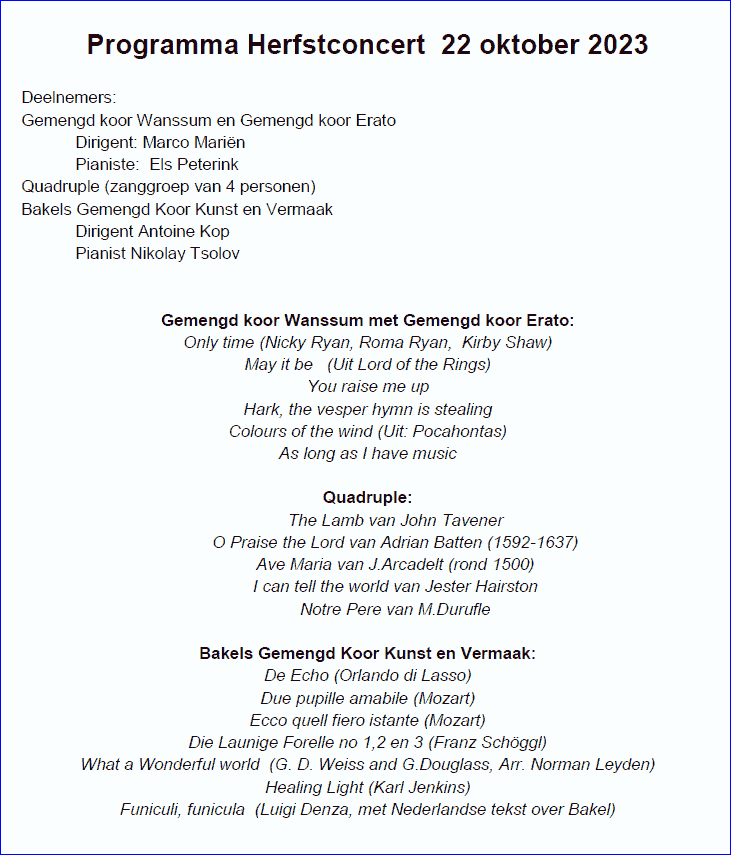 MIDZOMER CONCERT 25 juni 2023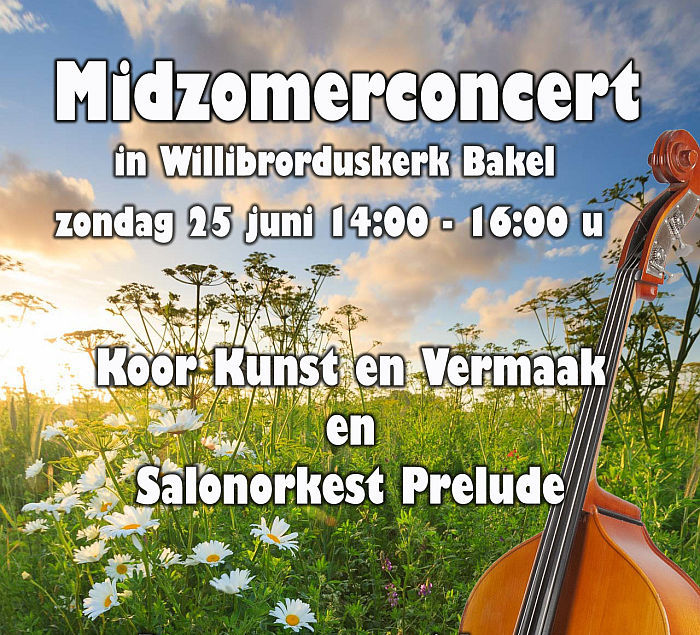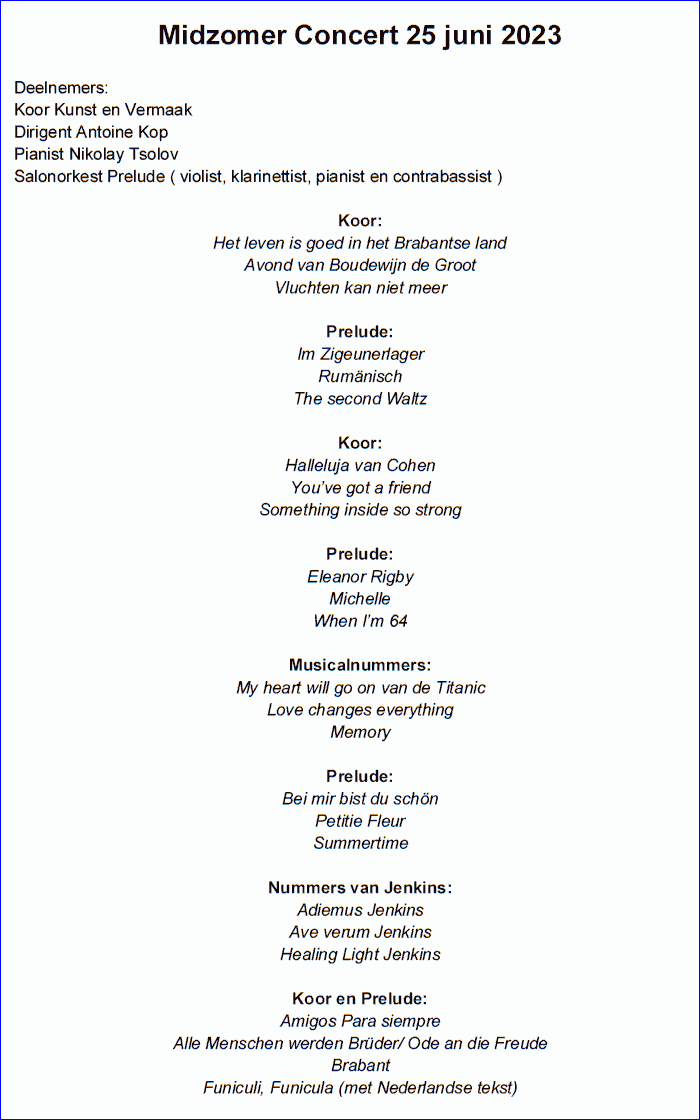 HERFSTCONCERT 2022
Vanwege corona hebben we geen concerten kunnen geven in 2020 en 2021, maar op zondag 6 november kon het weer. Bovendien zullen we op 18 december een kerstconcert doen in St Jozefsheil en op 24 december de Kerstnachtmis zingen.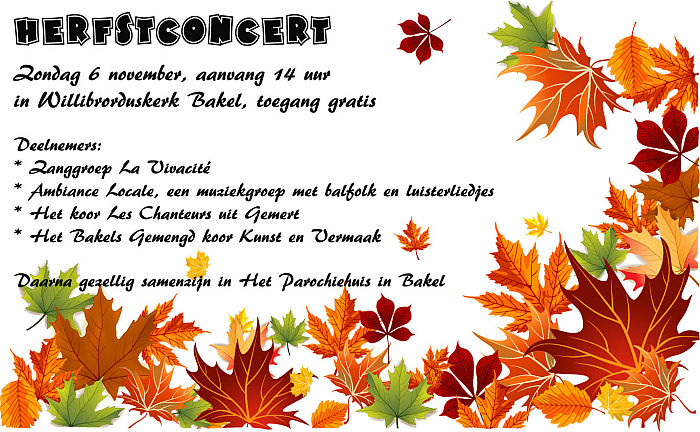 PROGRAMMA HERFSTCONCERT 6 NOVEMBER 2022
Aanvang 14.00 uur, einde 16.00 uur

Zanggroep La Vivacité met dirigent / pianist Ad Janssen

1. California dreaming van the Mama's and the Papa's
2. ABBA medley van ABBA
3. Memories van Maroon
4. The Lemon Tree van Fools Garden
5. The Family Tree van Venice
6. Viva la Vida van Coldplay
7. Pianoman van Billy Joel

Ambiance, een band van 5 personen, bekend om hun gezellige muziek. Ambiance bestaat uit Pierre Pasmans: klarinet, dwarsfluit en zang; Mariëtte Kroon: basgitaar, accordeon en zang; Martien Naus: gitaar en zang; Karin van Lierop: accordeon en zang; Jan van Asten: percussie.

1. De fanfare van honger en dorst van Jan de Wilde
2. Cis Verdonk van Gerard van Maasakkers
3. Mooie dagen van Johan Verminnen
4. Draai van Thé Lau
5. Ik loop van Gerard van Maasakkers
6. Blij dat ik je niet vergeten ben van Joost Nuissl / Guus Meeuwis
7. De boer ging naar de wei van Fungus
8. He goade mee van Gerard van Maasakkers
(Hier hoor ik thuis van Gerard van Maasakkers)

Zangkoor Les Chanteurs uit Gemert, o.l.v. Hedwig van der Putten

1 What a wonderful world
2 Bright eyes
3 The prayer
4 Thank you for the music
5 Sentimental journey
6 Man in the mirror
7 Rollercoaster
8 Son of a preacher man
9 Hail holy queen
10 Happy days

Bakels Gemengd Koor Kunst en Vermaak o.l.v. Antoine Kop, Piano Nikolay Tsolov

1 Gloria van Vivaldi
2 Die Launige Forelle nr. 1 t/m 5
3 Ave Verum van Jenkins
4 Adiemus Jenkins
5 Ode an die Freude
6 Amigos para siempre
7 Als toegift: Brabant

Na afloop gaan we naar het Parochiehuis, Gemertseweg 2 in Bakel. Hier kunnen we gezellig nog wat napraten en wat drinken.

------------------------------------------------------------------------------------------------------------------------------------

HERFSTCONCERT 2019
Programma: zie onder de flyer
PROGRAMMA 2019:

Kunst en Vermaak:
Amigo's Para Siempre (Andrew Lloyd Webber)
Memory (Andrew Lloyd Webber)
Adiemus (Karl Jenkins)
La Bamba (Richie Valens, bewerkt door Mark Brymer)
Healing Light (Karl Jenkins)
Hallelujah (Leonard Cohen)
Ode an die Freude (J. van Beethoven, arr. Antoine Kop)

De Weef:
I got life (uit Hair)
Something in the water (Brooke Fraser)
Fix you (Coldplay)
Lef (Karin Bloemen)
Parttime lover (Stevie Wonder)
You've got a friend (Carol King)
Als het golft (De Dijk)

Ellen Verberne:
Forest Gump - Main Title

Sami Tsolova en Dani Kaag:
Enkele pop liedjes

Leerlingen:
Jaiden: Sonata C major - Alegro (Mozart)
Bowen: Ode to Joy (Beethoven)
Lisa: Theme from the Overture from William Tell (Rossini)
Sacha: Riding on a mule (John Schaum)
Kaylee: Dangerous Journey (John Schaum)